The first time Jackie Carreira was published, she was still in primary school. It was a short story called And The Clock Struck Midnight, included in an anthology by Inner City children published by Dalston Library in Hackney, East London. If copies of it still exist, Jackie can't find them! In the meantime, here are published works that definitely do exist and how to buy them...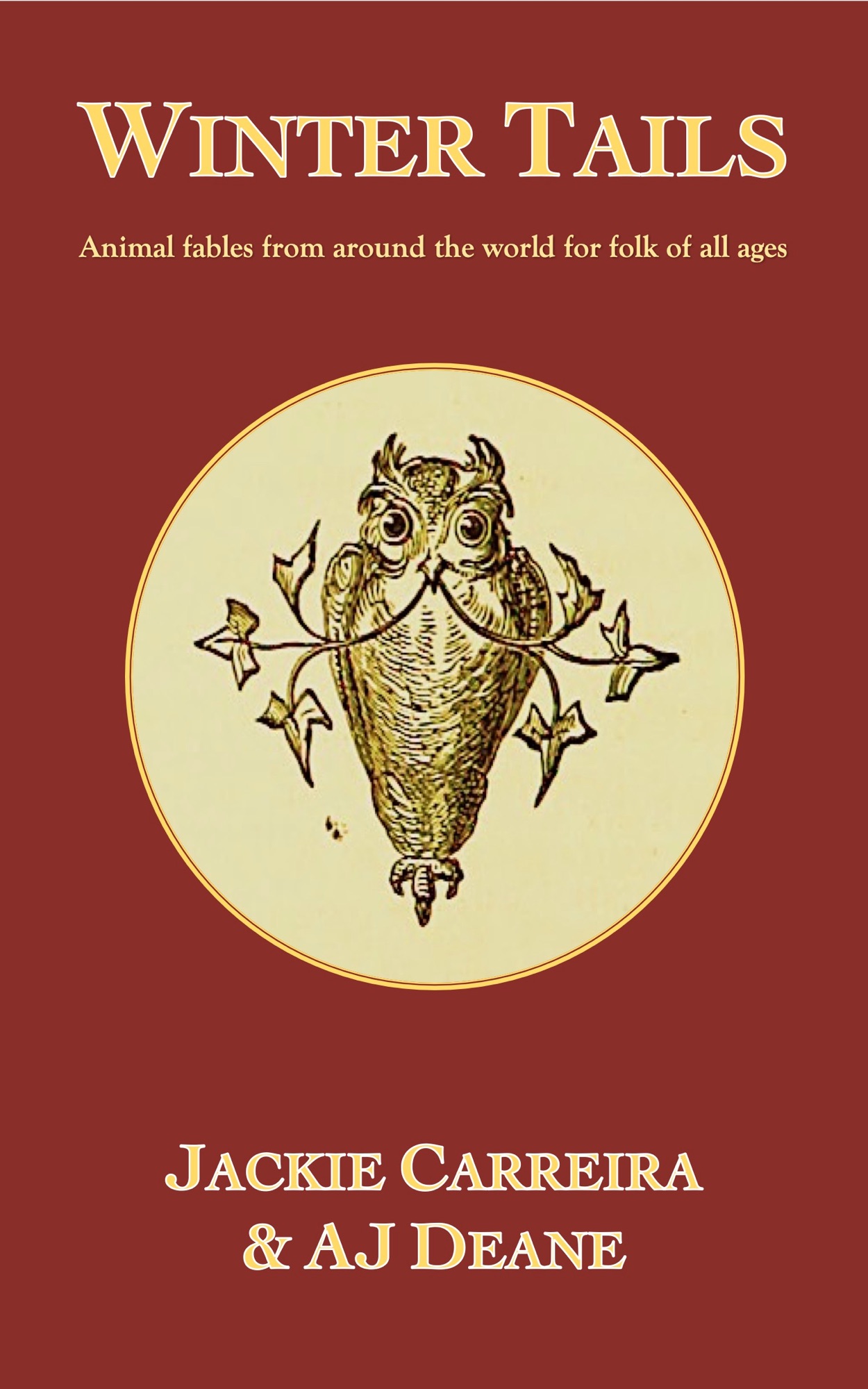 Winter Tails (with AJ Deane)
Published by QuirkHouse Books in 2023. ISBN: 9781916838031
The truths and wisdoms of these tales have been passed down the centuries, from generation to generation, often across different cultures and traditions, but always the message of the stories remains intact. These animal-inspired tales have been researched, collected and rewritten by the authors. Read them, enjoy them, laugh or cry with them, but most of all share them with each other.
QuirkHouse Theatre Company was founded in 2014 in Suffolk, England by husband and wife team, AJ Deane and Jackie Carreira. These enchanting stories form the basis of the company's popular Winter Tails series of festive plays, which continue to delight audiences, and will be coming back to East Anglian theatres in February 2024.
Paperback available to order online via QuirkHouse Theatre Company and at all live book events. Check out our 'Events' page for details.
RRP: £8.99
The Amber Library & other stories
Published in May 2022, The Amber Library is Jackie Carreira's first collection of short stories and poetry. These are human stories, and the one thing that all humans have in common is feelings. From love to despair, grief to hope, pleasure to pain; we all feel these in our own way. The understanding of this is where all humans can be connected.
This is a very limited edition hardback of only 125, signed and numbered, and there are no plans to print any more. Once they've gone, they've gone! A real collector's item for the future.
The Amber Library is ONLY available to buy at live author events (see 'Events' section of this website for most recent updates), plus there are limited copies in a small number of independent bookshops. See Stockists page for details.
Price: £12.99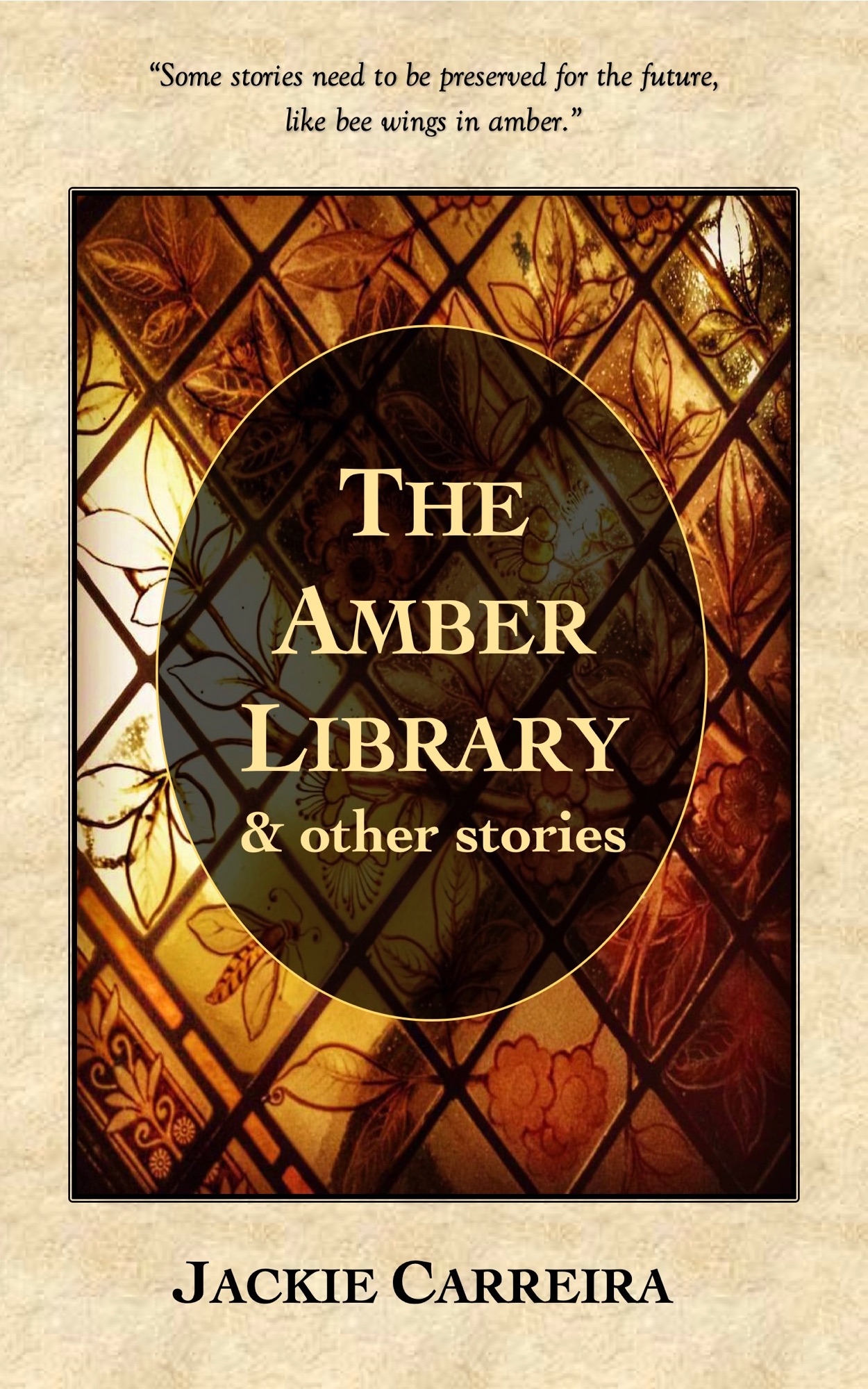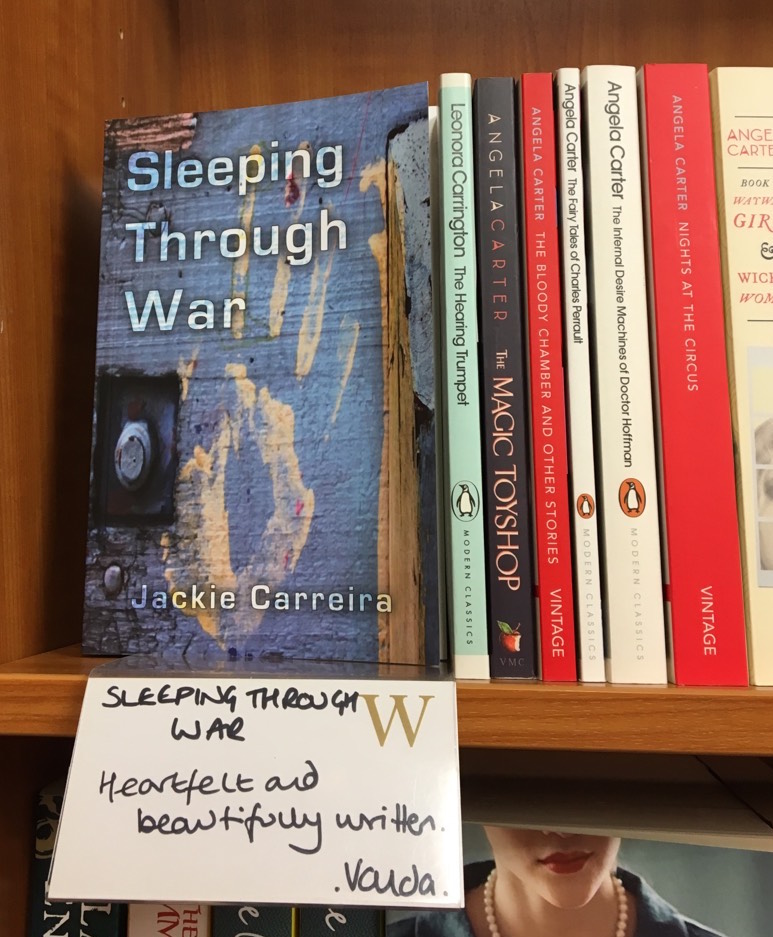 Sleeping Through War (a novel)
Published by Matador in 2018. ISBN: 9781788038539
The year is 1968. Students are rioting, civil rights are being fought and died for, nuclear bombs are being tested, and war is raging in Vietnam. For three ordinary women, life must go on as normal. Rose must keep her dignity as a nurse in London. Amalia must keep hoping that her son can escape their life in Lisbon. Mrs Johnson in Washington DC must keep writing to her son in Vietnam. For them, just to survive is an act of courage.
"I have to say, I think your book is great!" Benjamin Zephaniah
(cover design by Andrea Kennard)
see more photography by Andrea at www.flickr.com/photos/dreadwear/
Paperback available to order online or in store in the UK from Waterstones, Blackwell's, Foyles, WHSmith, Amazon, plus a selection of great independent bookshops in the UK (see Stockists page for details) RRP: £8.99
eBook available from all the usual online retailers. RRP: £1.99
Winner of a 'Chill With A Book Award' 2018
What the readers said:
"A beautiful novel."
"An absorbing read...You felt you were there with them, sharing their struggles, pain and hope."
"I loved it."
The Seventh Train (a novel)
Published in April 2019, this is Jackie's second novel. Based on her stage play of the same name, The Seventh Train is a ride – a 'road movie' on the railways. With a wonderfully eclectic cast of characters, it takes its passengers on a journey from the tragic to the strange, arriving finally at hope. By turns heart-breaking, thought-provoking and hilarious, this is a life-affirming exploration of the human spirit via the British railway timetable!
As a stage play, The Seventh Train was one of the finalists in the 10th Anniversary Kenneth Branagh Award for New Drama.
Paperback available to order online or in store in the UK from Waterstones, Blackwell's, Foyles, WHSmith, Amazon, plus a selection of brilliant independent bookshops in the UK. See Stockists page for details
Order ISBN: 9781789018936
RRP: £8.99
eBook version also available through all the usual online retailers.
RRP: £1.99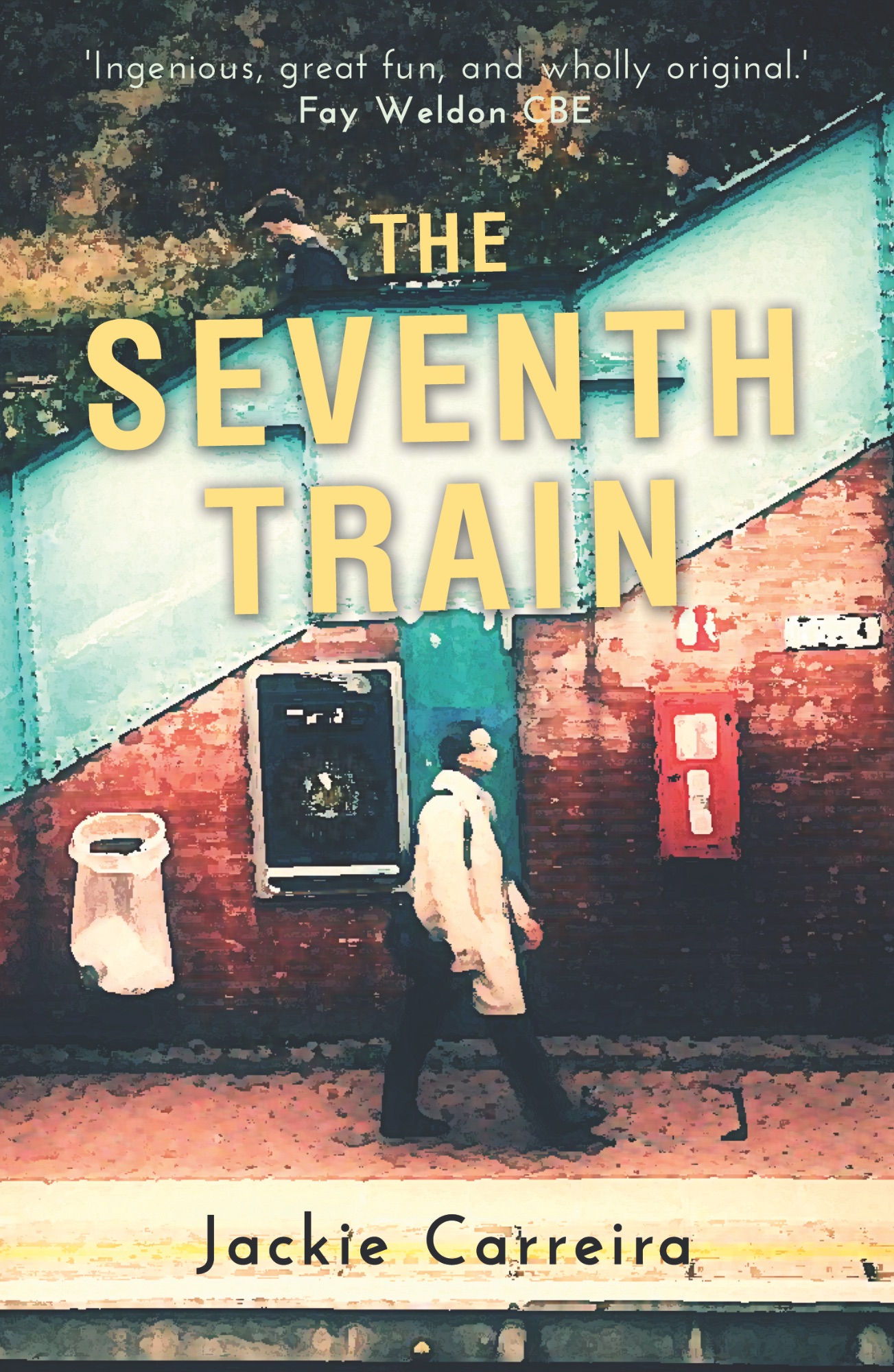 Winner of Two 'Chill With A Book' Awards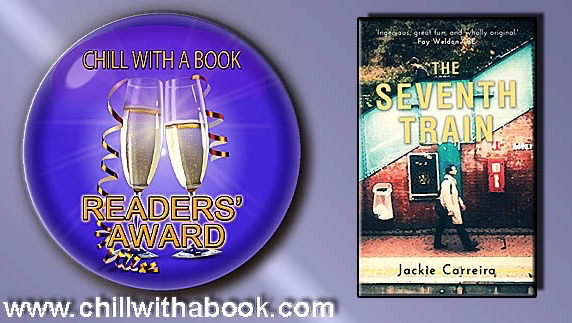 Talking in the Library (theatre play)
Published by QuirkHouse Books in 2019. ISBN: 9781912804856
NOW SOLD OUT and OUT OF PRINT (unless someone wants to publish again!)
Talking in the Library was QuirkHouse Theatre Company's first ever production back in 2014, and quickly became a firm favourite with audiences. After being picked up by Swallow's Theatre Company in Sussex, Talking in the Library went to the Brighton Fringe Festival where it was voted runner-up out of 600 plays in the Fringe Guru Audience Choice Award. QuirkHouse Theatre then took it on a tour of Suffolk and Norfolk libraries to help raise awareness about literacy and some much-needed funds for the libraries that were visited.
Now, by popular demand, QuirkHouse Books have published Talking in the Library in full as a paperback so that you can read it for yourself. And if you're part of a theatre company that would like to produce the play, performance rights are available from Lazy Bee Scripts.
UPDATE: The first limited edition printing is now sold out. You can, however, find copies in public libraries in Suffolk and West Sussex.
As Jackie says: "Librarians are my heroes," and so the play, and now the book, is dedicated to them.
QuirkHouse 5: Five of the Best (theatre play)
Published by QuirkHouse Books in 2019. ISBN: 9781912804801
The first publication by QuirkHouse Theatre Company's new imprint, featuring five monologues, including Dustman by Jackie Carreira. Available to order direct by getting in touch with www.quirkhousetheatreco.com and also available at all of the company's live performances and Jackie's live author events.
The 'QuirkHouse 5 Theatre Crawl' is an annual event in the beautiful market town of Bury St Edmunds, Suffolk. Now in its fourth year, the 'Crawl' has become an established part of the Bury Fringe Festival and features brand new plays from writers with a connection to East Anglia. Dustman was showcased at the very first event, performed by AJ Deane.
More information about QuirkHouse Theatre Company can be found by clicking on their link above where you can find news of current and future productions.
Paperback copies available at QuirkHouse Theatre shows and at Jackie's author events. RRP: £8.99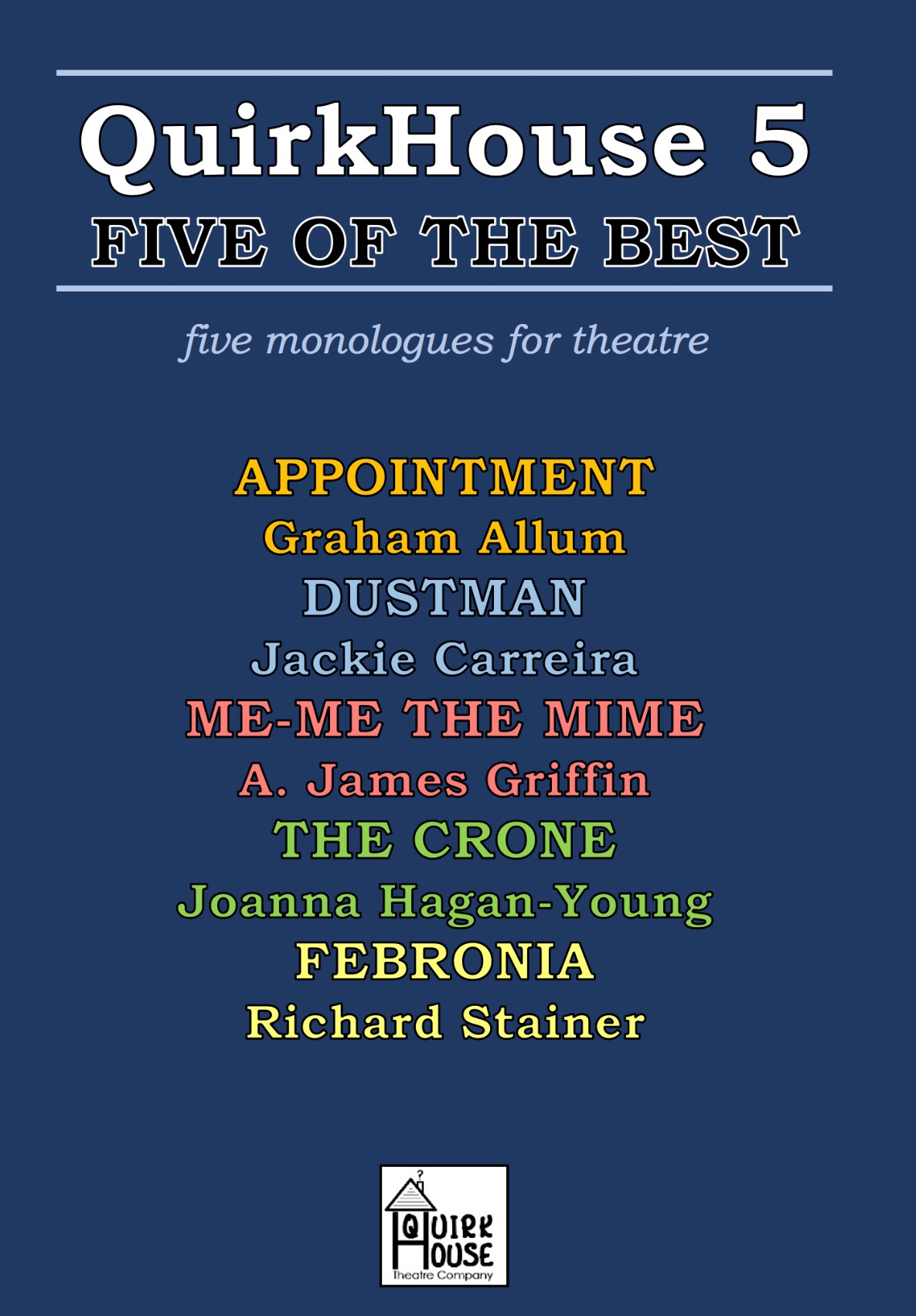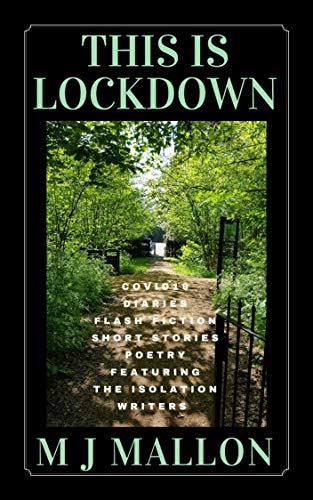 This Is Lockdown (anthology)
Published by Kyrosmagica Publishing in 2020.
It was a real privilege to be asked to make a contribution to this new anthology from fellow author MJ Mallon. These are the strangest of times. Nobody could have predicted twelve months ago that we would be where we are now. 'This Is Lockdown' attempts to capture some of the thoughts and feelings, right from the middle of this global event as it unfolded. Alongside Mallon's diary entries, flash fiction and poetry, there are 'isolation' writings from writers like me as we mused and wondered and struggled with being under lockdown in these extraordinary days. A little piece of history for the future.
(Available as an eBook and paperback now via Amazon)


As well as writing novels and plays, Jackie has written feature articles and designs for many local, national and international publications, including:
Writing Magazine; Writer's News; Books Quarterly; Waterstone's Magazine; Suffolk Norfolk Life; Female First (online); Topaz; People's Friend; Let's Get Crafting; Inside Crochet; Suffolk Life; Family Tree Magazine; Bury & West Suffolk Magazine; Make It Today; Hakeln For You (Germany); Homemaker Magazine; Style At Home.
Please get in touch via the 'Contact' page for more information and editorial commissions.