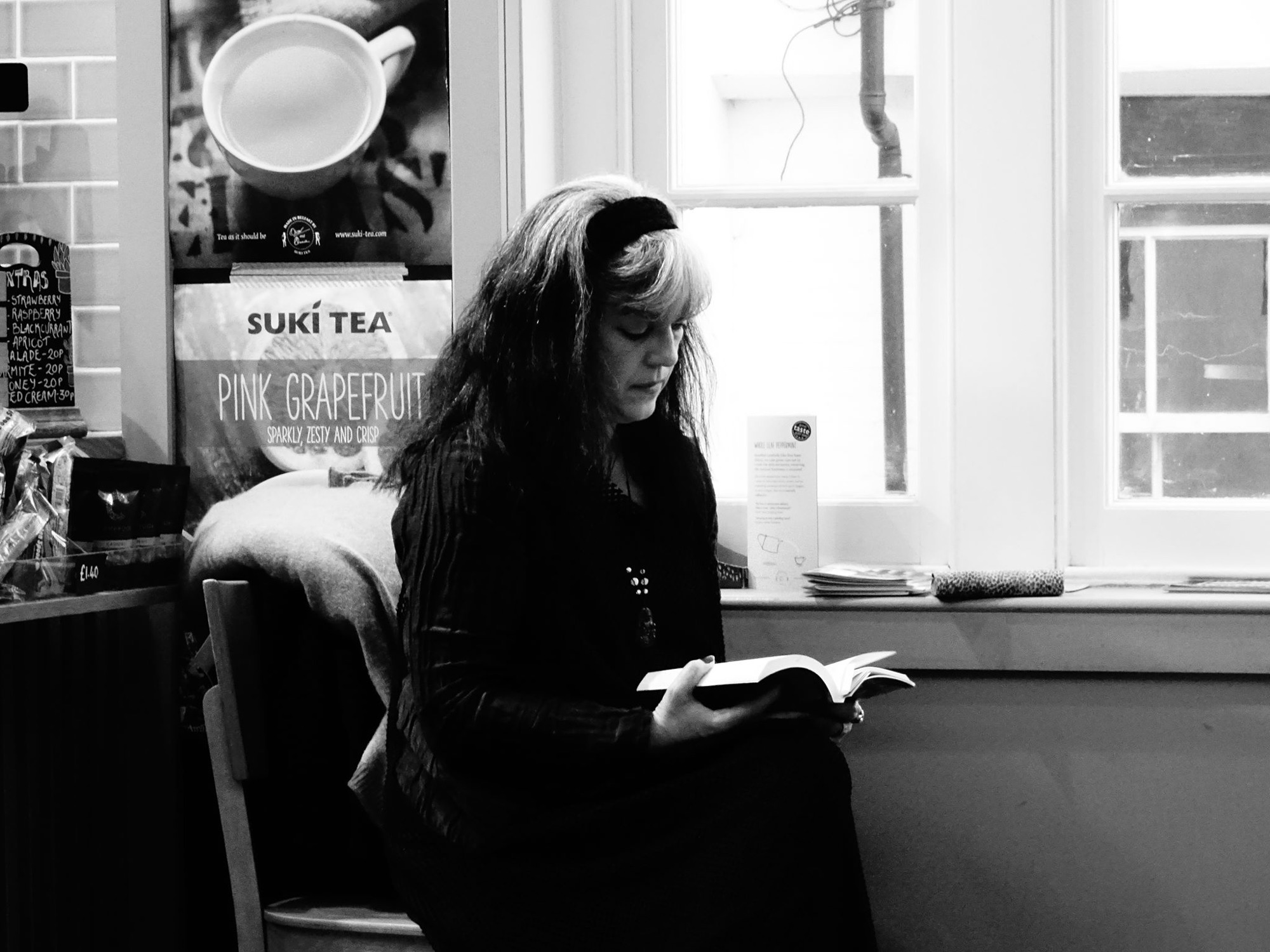 Jackie's most favourite place to write has always been cafes and coffee shops, especially ones in bookshops or railway stations. Maybe it's the coffee and cake, or maybe it's the inspiration that comes from the eternally-fascinating converstations of strangers. It's probably both, but it's certainly the coffee. Not having these places available during the UK Lockdown of 2020 was tough. She's lucky. It could have been so much tougher.
Jackie was born in England to Portuguese parents a number of years ago (she is not willing to disclose how many right now. She's reached a sensitive age). She grew up mostly in Hackney, East London, but spent several years in the Old Quarter of Lisbon as a child with her grandparents. Her deep working class roots, and the experience of being first-generation British, has coloured much of her writing, both in novels and plays for theatre.
A comprehensive school education was not as comprehensive as it could have been for Jackie, and she probably learnt more from living in Inner Cities than she did at school. She did, however, uncover a passion for the arts from a couple of wonderful teachers. For that she is eternally grateful. You never forget the great teachers - or the terrible ones.
After a miserable attempt at working 9 to 5 for various local newspapers, culminating in a year in the advertising department of the Evening Standard in Fleet Street (that could fill a whole website in itself!), Jackie gave up trying to be a useful economic unit and, at the age of 20, decided to try and make a living doing 'something creative.' She accidentally became a musician and spent the next twelve years travelling the length and breadth of Britain and several other parts of the world playing bass guitar. Jackie was a member of indie bands Orange Car Test, The Flatmates, The Caretaker Race, and all-girl rock band Girlschool. She spent her last year in the music biz as a session musician, most notably playing double bass for Take That at the Brit Awards on their performance of 'Back for Good'. Robbie left the band soon after. It was nothing to do with her!
After hanging up her bass, Jackie was finally in a position to be able to afford to go to university - a long held dream. She was one of the first people in the country to do a BA Hons degree in Creative Writing. Previously Creative Writing had only been available as a part or minor degree or as an MA. She achieved a first-class degree, but she doesn't like to brag about it.
In 2006, Jackie said goodbye to her increasingly-overcrowded and expensive hometown of London and moved to the beautiful, sparsely populated and much cheaper county of Suffolk. It had been just an hour and a half away from London the whole time and she hadn't noticed. She got a job in a bookshop, joined the Bury St Edmunds Theatre Royal Writers' group and set about building a life around literature.
By 2019, Jackie had published two novels, had a plethora of plays performed all over the world, written all kinds of magazine articles, and co-founded QuirkHouse Theatre Company with her husband, the actor A.J. Deane. Then somebody discovered a new virus.
This brief biography was written at the end of the year 2022. Jackie is still in Suffolk with two cats, a husband and an ever-growing mound of bookcases - all overflowing. She still gets her beloved Rickenbacker 4001 bass guitar out of its case every now and again and will have a deep love of music forever. She has been a champion of public libraries all her life and is a proud patron of Halesworth Libary in Suffolk. Jackie is currently writing her third novel, due to be published in 2023...unless someone discovers another virus.
Did I mention that Jackie also designs crochet patterns for national magazines in her spare time? Well, this is only a brief biography. There's no space for everything.